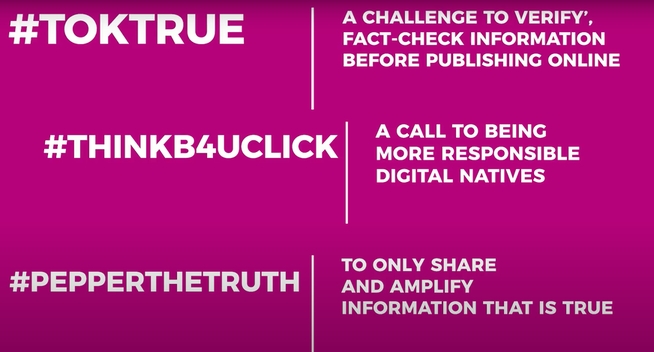 Sisterspeak Digital Literacy contest
In 2021 we launched our Digital Literacy Project with support from the US Embassy in Cameroon. The first phase saw the training of 46 youths and influencers in the South West SW Region of Cameroon. At the end, they took the commitment to use tech for the promotion of peace & truth with the following tags
#Toktrue #PepperTheTruth
#ThinkB4UClick
In this next phase of the project, the participants will engage in a competition using various art forms to educate their peers. Winners will choosen monthly from the Digital Literacy Contest
The Digital Literacy contest therefore, will be officially launched on the 24 of January 2022. All entries and submissions for this competition should be emailed to info@sisterspeak237.com latest Saturday the 23 of January 2022.
For best results, your audio entries should be 25Mb or less.
For videos, they should be in 720pixels in dimensions and saved as an mp4 file.
For pictures, they should be at least 1080 pixels in dimensions and should be saved as a .jpg or .png file.
For all text-based entries, they should be emailed in both pdf and docx files.
It should be noted, the winner of this competition will be decided by 50% voting and 50% analysis from our panel of judges.
Besides a cash prize, the winner will also get their works highlighted on our Sisterspeak237 website and partner media organizations.
The context will run monthly from January to March 2022