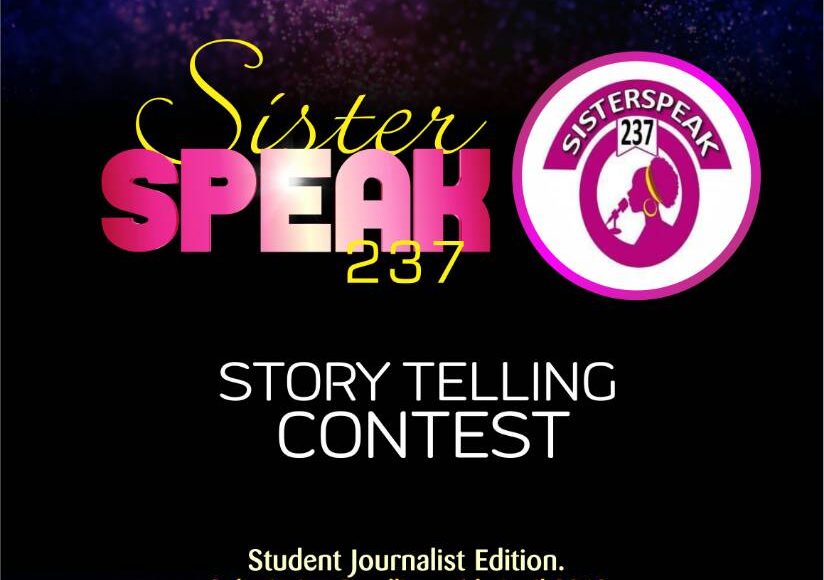 SisterSpeak237 National Story Telling Contest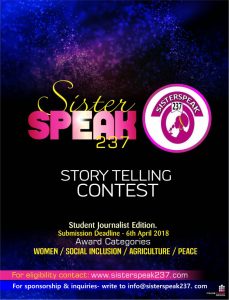 In line with its mandate to tell under reported stories, Sisterspeak237 instituted the National Storytelling Award. The annual contest, celebrates excellence in journalistic works by recognizing meaningful contributions made by individual journalists.
Sisterspeak237 hopes that the Annual Journalism Award will reignite the passion for journalism, encourage journalists to pursue stories that are not often told in mainstream media, and most importantly, contribute to uplifting of professional and ethical standards of journalism in Cameroon.
The sustainability of media in Cameroon has remained a nagging issue for several years now. This Journalism Award is therefore for those dedicated journalists who work day in and out, chasing stories and deadlines – to inform and educate, to bring out the plight of the poor and the marginalized in the national mainstream, to keep watch over the powerful and the influential, and to deepen democratic culture, among many other.
Sisterspeak237 hopes that the annual journalism award will go a long way in inspiring young journalists to reach even higher. We hope the award will rekindle the latent passion in many of us and revive our commitment to journalism. We hope it will encourage us to go the extra mile while reporting stories.
Terms and conditions
Entry into the Sisterspeak237 National Storytelling Contest 2018 is subject to acceptance of these terms and conditions.
– This edition is open to student journalists in Cameroon. People who are staff reporters at any national or international media house cannot enter the 2018 edition.
–  Entrants should submit a story that highlights one of the following
Women's issues in their community
Social inclusion with focus on persons with disability
Innovations in agriculture
Peace
– Submission deadline is 6th of April 2018.
Any entries received after this closing date will not be accepted. Sisterspeak237 reserves the right to change the closing date where the entries are of insufficient quality.
Sisterspeak237 shall not be responsible for the return of entries.
– Entries must include full name, home address, email, mobile and/ or home phone number.
–  Entrants must include a photocopy of their school identity or attestation from an authority from their school to prove they are currently enrolled in the school.
– Entries should not have been previously published and should be the sole original work of the entrant. Any evidence of plagiarism will result in the entrant being removed from the competition.
–  Incomplete entries, entries on behalf of another person and joint entries will not be accepted. Only one entry per person can be accepted.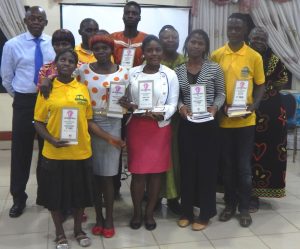 Prizes
The awards will be in the form of a trophy, a citation, and gadgets/cash.
Winning entries will be published and promoted in partner media houses. Each category will have three prizes.
All first prizes must be equivalent to 50.000 FRS; second prizes 30.000 FRS and 3rd prizes 20.000 FRS
– Sisterspeak237 Lifetime Achievement Award. This category is to honor a senior female journalist whose works has greatly contributed to public understanding of women's issues, social inclusion or agriculture
Submission formats
For Print entries: Write a feature in English, of no fewer than 650 words and no more than 1000 words on their chosen topic.
For audio visual entries: Submit news items or radio features, maximum five minutes. Features should have at least 2 interviews.
For Photojournalism entries: Submit 5-10 well captioned pictures on chosen subject.
Promotional usage of entries
The work of short-listed or winning student journalists may be used in promotional activities by Sisterspeak237 and the contest sponsors within the context of this award. By entering this award competition, student journalists agree to such activities.
–  In applying for the award, the applicant agrees to have their submitted piece possibly used in a collection of applicants' works, and as such made public.
If you have any questions about these terms and conditions, please email info@sisterspeak237