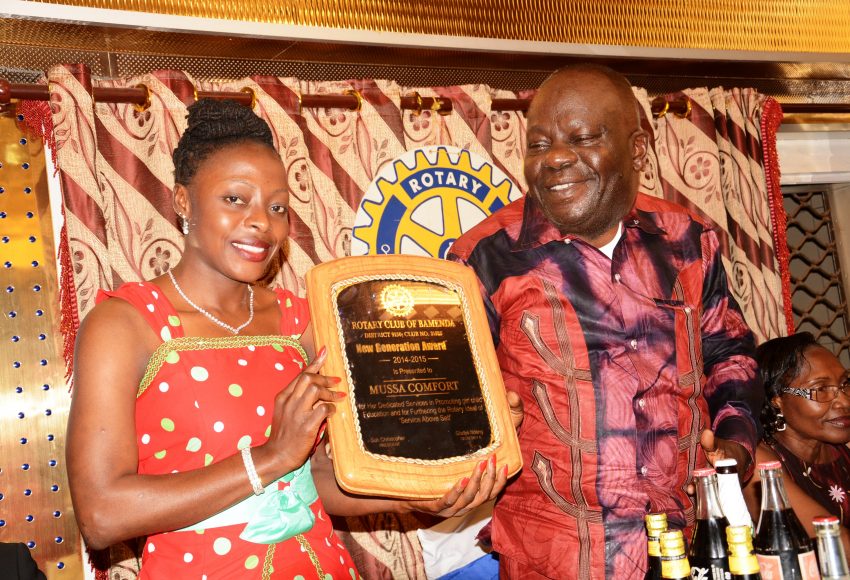 Rotary International -Bamenda Club honors Founder of Sisterspeak237
The founder of Sisterspeak237.com , Comfort Mussa has been named recipient of the New Generation Award by Rotary International – Bamenda Club. She received the award during the President's night at Blue Pearl Hotel in Bamenda on 4th April 2015
Announcing the recipient of the New Generation Award, Dr Christopher Suh, president of Rotary Club Bamenda said, "Comfort Mussa has distinguished herself as a young talented woman, working hard for the empowerment of women and girls in our community. Today we recognize her service which is in line with Rotary ideals of "service above self"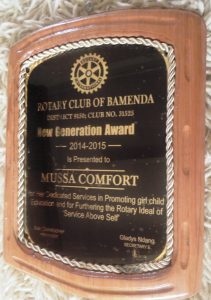 Comfort dedicated her award to the growing community of young female professionals in Cameroon.She called on community leaders  to continue including the voices of women in public conversation;to give them the recognition they deserved and lend them their support where/when needed.
Other personalities who received awards for nation building initiatives and service to humanity are;
Mr Chin Richard Wirnkar, Director ofUpper Noun Valley Development Authority (UNVDA)
The Fon of Nsongwa , HRH Fon Fongwade III of Nsongwa
Dr Nick Gwanyam Director of St Louis University Institute of Health and Biomedical Sciences.
Rotary
Club Bamenda is in District 9150; Club No 31525.
By Y.N Faith