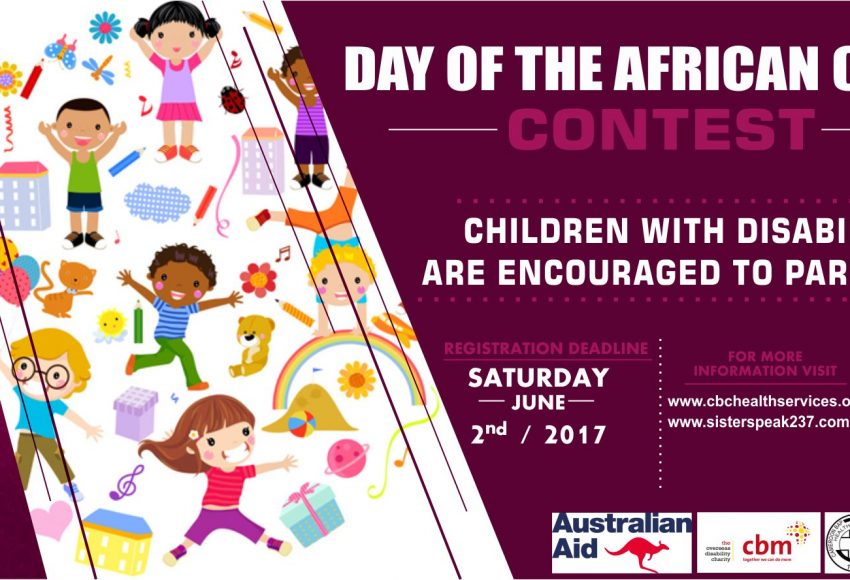 Day of the African Child Contest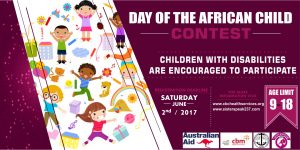 Day of the African Child Contest
Terms and conditions
Entry into the Day of the African Child Contest 2017 is subject to acceptance of the terms and conditions here below.
The contest is open to children living within the Northwest Region of Cameroon 9-18 years of age.
Interested children will be split into two groups as follows:
Pre-teens = 9 to 14 years of age
Teens = 15 to 18 years of age
NB: Children must not be above18 years by the 16th of June 2017.
Children whose parents are staff of the SEEPD Program cannot enter the contest.
Interested children should submit a sample of their work in the category they want to compete in from one of the following.
Drawing
Craft
Short story
Singing
Deadline for registration must be by midday on the Friday June 2, 2017. Any entries received after this closing date will not be accepted.
Registration points
SEEPD Office or CBC Radio, Baptist Center Nkwen, Mbingo Annex
CBS Radio Ntamulung Church Hill
Bobo Leenox Community Youths and Arts Center, Commercial Avenue, Opposite MTN
Coordinating Unit of Association of Persons with Disabilities (CUAPWDs)
When registering, children must provide their names, age (photocopy of birth certificates) and address, the names and contact of their parents or guardians.
This information will only be used in relation to the contest and will not be kept longer than is necessary for the operations of the contest.
Children can only register for one category.
Entries should not have been previously published and should be the sole original work of the child. Any evidence of plagiarism (copy work) will result in the entrant being removed from the contest.
Incomplete entries, entries on behalf of another person and joint entries will not be accepted. Only one entry per person can be accepted.
Prizes
Each category and age group will have three prizes. All first prizes winners will recieveto 30.000 FRS; second prizes 20.000 FRS and 3rd prizes 10.000 FRS. All entries in the contest will be published in a special children's book or journal.
With the consent of parents or guardians, winners will have a chance for an opportunity for a one week field/working sessions at the Child Protection services at the Baptist Center Nkwen.
Children will also have the opportunity to be on radio programs.
Shortlisted entrants will be invited for the finals on the 15th and for prize awards on the 16th Day of the African.
Submission formats
Shortlisted candidates will be expected to write a short story for not more than 500words.
For singing, candidates are expected to compose and sing a song not more than 3minutes
For all the categories, candidates are expected to interpret their craft, drawing, short story or singing using the following themes on the rights of children:
Kick out Poverty
Access to quality education
Access to health and wellness
Access to good and portable water
Promotional usage of entries
You own the copyright to your work as the author.
By entering this contest, you give the SEEPD Program the right to feature your work on SEEPD Publications.
You also give SEEPD the right to use your name, picture and age for the purpose of identifying you as the source of your entry.
Sending in an entry means you agree to the terms and conditions of this contest.
Children with disabilities are encouraged to participate. Provisions will be made to ensure the smooth participation of children with disabilities.