2015 Glo-CAF Awards: Enganomouit wins Women's Player of the Year Award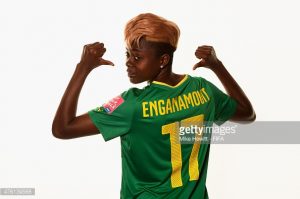 Gaelle Enganamouit of Cameroon has been named women's player of the year in the 2015 edition of Glo-CAF awards. Enganamouit beat Gabrielle Onguéné (Cameroon), Ngozi Ebere (Nigeria), N'rehy Tia Ines (Cote d'Ivoire) and Portia Boakye (Ghana). Gaelle is the first woman from Cameroon to win the award .
African Women Footballer of the Year, is an annual award for Africa's best female football player. It is awarded by the Confederation of African Football (CAF).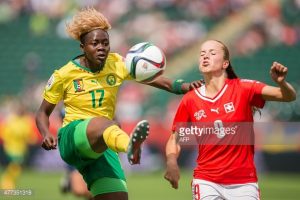 2001 – Mercy Akide, Nigeria
2002 – Alberta Sackey, Ghana
2003 – Adjoa Bayor, Ghana
2004 – Perpetua Nkwocha, Nigeria
2005 – Perpetua Nkwocha, Nigeria
2006 – Cynthia Uwak, Nigeria
2007 – Cynthia Uwak, Nigeria
2008 – Noko Matlou, South Africa
2009 – not awarded
2010 – Perpetua Nkwocha, Nigeria
2011 – Perpetua Nkwocha, Nigeria
2012 – Genoveva Añonma, Equatorial Guinea
2013 – not awarded
2014 – Asisat Oshoala, Nigeria
2015– Gaëlle Enganamouit, Cameroon