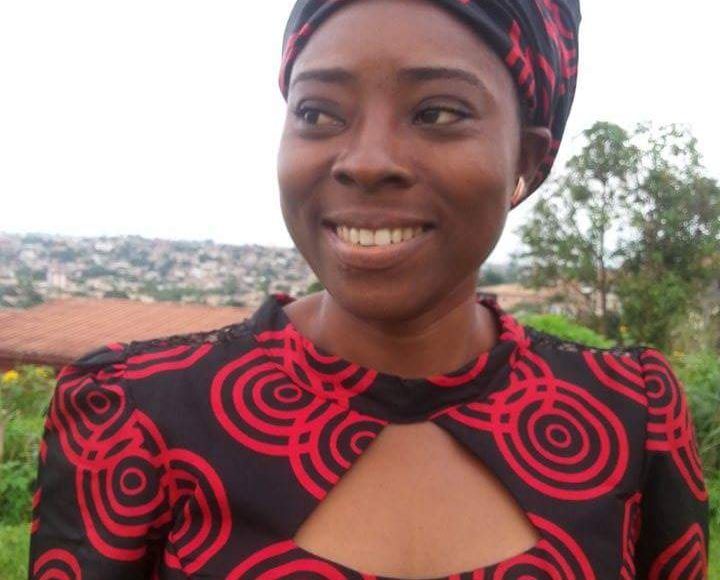 Women who inspire – Arrey- Echi Agbor-Ndakaw
Arrey- Echi Agbor-Ndakaw is a Sickle Cell Champion and advocate. In this interview with Sisterspeak237, she shares her journey to  finding her voice and using it for advocacy on sickle cell in Cameroon . She shows us how to see the silver linings in dark clouds and dream big.
Sisterspeak237: Arrey-Echi , thank you for accepting to share your story with us. To begin with, who is Arrey-Echi?
Arrey-Echi :
 Thank you Sisterspeak237,  for giving me the opportunity to share my story. I am Arrey- Echi Agbor-Ndakaw a Cameroonian born in the late 70s. I am a graduate from the University of Buea with a Double Majors in Women/Gender Studies with Sociology/Anthropology. I also hold a Diploma in Development Studies/Human Resources Management from the Pan African Institute for Development- West Africa (PAID-WA) Buea. Presently, I work as an Intellectual Property Officer with a private law firm in Yaounde.
Sisterspeak237:  As a sickle cell champion, when did you decide to be a face/voice for advocacy on sickle cell in Cameroon?
Arrey-Echi:
About 2+ years ago.
Sisterspeak237: What motivated you?
Arrey -Echi :
As a young girl, I was not very vocal about my health situation. A few friends knew about it. Not that I was ashamed about my health I just hated the pity looks some people sent my way. Thankfully, the few friends who knew about it didn't see me any different from others. However, what really made me to start speaking out was what happened about two years ago. You see, I have been encouraged to start a blog but was reluctant to do so. Nevertheless, when one particular article I wrote on Facebook about Sickle Cell and Stigma generated such ignorant and painful comments about SS Warriors, I said, the time to blog has arrived. I started blogging about my experience with SS and from there, awareness campaigns and workshops joined the queue all in a bid to raise awareness, educate and debunk myths about SS.
Sisterspeak237:  Wow, that's inspiring. Indeed, if we don't tell our stories,who will? What was your most recent I wear Red campaign all about?
Arrey-Echi:
It was all about raising awareness and breaking the silence and stigma around sickle cell. This is the second year I am doing this, though this year's lasted one whole month. As we all know, colours have been used to raise awareness around something especially health related. Sickle Cell Colours are red/black. It was just an added bonus that one of my favourite colours is red. So, I rocked that red/black in all shades not to be a fashion icon but to pass across an important message on sickle cell. It was thrilling to see many, including Sickle Cell Warriors join me in the campaign to break the silence and be a sickle cell voice. You can check this out on my Facebook page it has a special album
'BREAK THE SILENCE…BE A SICKLE CELL VOICE
'. It is something I plan to do every June for as long as possible.
Sisterspeak237: Your devotion to this is impressive. What is a day in the life of Arrey like (from dawn to dusk)?
Arrey-Echi:
My day begins at 6 am. After a daily bible text to guide me along the day, I watch a program I follow on TV then get ready for work. From 8:30 to 5pm, I am busy looking for my daily garri, and sometimes especially during slow days, check Facebook occasionally where I can write a post addressing a social problem or just for fun. I also join other interesting topics I come across.  At the end, head back home, eat, watch another program, read, check my blog or do research and write a new blog post.
Sisterspeak237:  I have read some of your Face Books posts about the strain living with sickle cell has on your finances and on your body. Do you mind sharing briefly with our Sisterspeak237 readers?
Arrey-Echi
: I guess you may be referring to my post on the Economic cost of living with Sickle Cell and the one on dealing with Leg Ulcers. For starts, life is generally expensive but it is even more so when you have to face it with a chronic disease such as sickle cell which is not given much of a priority in the Country.
Like I always say, I find myself very fortunate and blessed to have a strong support system. My family especially, has always been there to make sure I have my medications regularly. Nevertheless, it is quite expensive buying these daily medications. Even with a supportive family and job which ensures I get them still, it is no mean feat. Take for example, there's no price regulation in pharmacies. They have totally different prices for the same product. I have a drug Hydroxyurea (Hydrea) I take every day (Monday to Friday) and a packet lasts just two weeks. The price fluctuates all the time. I can buy today for 5950F and tomorrow for 7.500F then repeat after two weeks. That's just an example with one daily drug. You don't want to think about the others or how much is spent when I am hospitalized. The leg ulcer, which happened due to an accident while in high school, has remained what I called my thorn in the flesh. It heals today, and sometimes for no apparent reason, starts paining after long years. When that happens, money is spent to get the best possible treatment and the emotional and physical pain is something else.
Sisterspeak237 : What services are available in Cameroon for persons with sickle cell conditions?
Arrey-Echi :
I am not so sure of what services are available. I have not benefitted from any such services nor do I see information about them often to let Sickle Cell patients know which services are available.
Sisterspeak237 : How has speaking up about sickle cell conditions impacted you and your community?
Arrey-Echi:
I did not choose to be born with sickle cell, so I need not be ashamed of that and hide it. Speaking up has impressed this truism on me. I don't see why we need to suffer in silence for something we are not responsible for.
There's no pride in being a Sickle Cell patient but there's a lot of pride in standing tall and speaking out instead of hiding in shame as society generally, would want us to.
Speaking up has made me realize that we are not different from any other person, we just have our own different battles to fight and how we approach the battle field makes all the difference. On the community, I see a lot of Sickle Cell Warriors and parents change their perception about sickle cell and being willing to speak out. That makes it all worthwhile.
Sisterspeak237 : Talking about speaking up, finding your voice literally and figuratively is an inspiring journey. Please tell us about it.
Arrey-Echi : I am naturally, someone who prefers to live her life away from the prying eyes of the public. However, when that urge to speak up happened as mentioned previously, it was not that easy putting my life out there. Yet, I understood that to make an impact, I had to get real. Tell my own story and thus my journey began. It has been an interesting journey despite one or two setbacks. There have been times I felt like just giving it all up but that is usually when someone sends me a positive feedback, serving as an encore to continue.
From blogging, my story reached TIMES.com when I wrote about it during the 8 weeks I did World Pulse's online course aimed at training Digital Change Makers. That program was the catalyst to carry out more of the online campaigns on breaking the silence around SS. From there, many more have picked up my story including Dr.SEA Initiative and most recently, CRTV.  Also, from speaking out, I started organizing workshops aimed at educating the community at large about sickle cell. It has been a great boost, making it all an inspiring and interesting journey, impacting lives positively… a big boost to this girl who just likes eating her fufu and eru and staying behind the scenes with a book in hand putting her life out there to continue impacting lives.
Sisterspeak237 :You are also living with a hearing/speech challenge. I imagine the internet is a great facilitator for your advocacy. How important is the internet and connectivity to your work?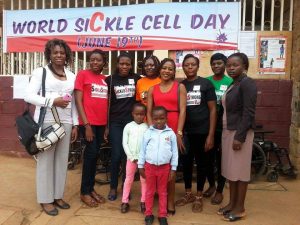 Arrey-Echi: Yes I do. I am hearing impaired… probably a side effect to one of the many medications I have taken in this journey called life. This has also in a way affected my speech. I do talk well when face to face with someone. However, while some may hear me instantly for the first time, some literally need to get used to me to hear me out. For this reason, I am more vocal with my pen or should I say keyboard. So, the internet is a great facilitating tool for my advocacy work.  Following the internet shut down, I was affected psychologically because I kept thinking what if I was in these regions or what if one day the whole country gets affected how do I carry on my advocacy work? I know I have to be in the field to reach people at grass root levels. My health does not make that easy as much as I would want so, access to the internet which enables me find people online on Facebook, Twitter and while blogging makes things easier. This just shows access to internet and connectivity is very important in what I do.
Sisterspeak237: For some youths,  living with disabilities or sickle cell conditions keeps them for dreaming big. Some are excluded from many opportunities because of their conditions. You are blazing trails for others .What is your advice to other youths living with disabilities or sickle cell conditions in Cameroon?
Arrey-Echi: Sickle Cell patients have been erroneously made to believe their lives most certainly would end at 21. That is the number one myth that has stopped many sickle cell warriors from dreaming big.  How this myth came about is yet to be understood though one could say it was largely due to the lack of knowledge and healthcare. These have changed greatly, medicine and care has greatly improved though many still hang on that 21 year mystery. I would encourage sickle cell patients especially to live positive and think big. With just a little care, we all can live life to the fullest. We just have to believe in ourselves and take the days as they come.
Social stigma impacts those with disability a lot. Add that disability to living with sickle cell it makes dreaming next to impossible. Like I always say, having a strong support and a family that saw beyond my health issue to spur me on has been one of the best things that happened to me. Maybe that confidence to make it in life despite the road blocks has always been there, but they had a hand in lifting it up. Road blocks, social stigma ,notwithstanding, believing in themselves is the first step in living life to the fullest. My advice is that they take care, aim high and see that light, that silver lining where others see dark clouds and believe they can reach that light.
Sisterspeak237: What is your biggest dream?
Arrey-Echi: My dream is that one day, this advocacy work will spread through the whole country and beyond, ensuring that sickle cell patients are treated as any other person in the society…giving them the necessary care and letting them add their own quota to the betterment of the community without fear. Also, that through education and sensitization, one day in future, governments will make this a public health concern and invest towards finding a cure and of course, hope that no child will be born with Sickle Cell in the near future.
Sisterspeak237:  Dreams do come true. We wish you continuous success in the amazing work you do.
In our Women Who Inspire series, we feature influential women making a difference in their communities and beyond. Their lives and stories inspire us to do better and to shine the light in our little corners of the world.