Celebrating a female political martyr – Marthe Moumié
By Kiven Brenda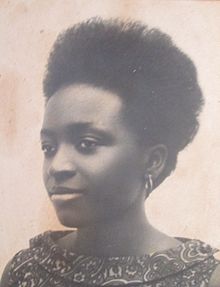 Cameroonians on January 8, paid hommage to a great female political martyr, Marthe Moumié, who was assassinated in 2006 at her residence in Ebolowa, South region of Cameroon.
Politicians, historians, researchers ,journalists amongst others used social media to post the works of Marthe during her political career and the role she played in the fight for independence from French colonial rule. On twitter, tweets on this special day ended with the hash tag "#marthemoumie". Many people condemned the fact that heroines like Marthe are not recognised by government. As the wife to late nationalist Félix Moumié of the UPC (Union Populaires du Cameroon) , she was a strong arm of the women wing of that party. The death of her husband in 1960 in Geneva, didn't stop her.
She was a strong woman who stood against French colonialism and advocated for independence of African states ( not just Cameroon) from colonial masters. She is the author of a book titled Victim of French Colonialism, prefaced by Ahmed Ben Bella. In the book, she reveals how, after the death of her husband, she was tortured in the neighboring Equatorial Guinea and Cameroon, her country, for more than 5 years.
 Historians say she  always accompanied her husband in all his struggles. Her fight symbolizes the sacrifice of women for the freedom and dignity of Africa. She wanted her testimony to help young people learn about the history of colonialism as lived by the colonized peoples. One of her famous quotes sells the idea that Cameroon's history is being thwarted.
 " That is the history of Cameroon, it is necessary that the Cameroonian youth sees these things, they do not know … We hide the story to young people, we hide everything ", from her best selling book, " Victim of French Colonialism
Unfortunately, she was murdered in 2009 in Ebolowa. Murdered may sound "usual", but the manner in which the act was done remains barbaric. According to police reports, the 78 year old widow of referred Cameroonian political hero, late Félix Moumie was attacked, raped and strangled by a 19 year old, who confessed the act.
 Her story maybe be focuses more on her political strides, but it is also to shame the act that led to her death, RAPE. The story of Marthe ends sadly but it is also a lesson to rapists that the crime wouldn't go unpunished. Even if you escape the law, your conscience will torment you.