Winners of SisterSpeak237 Storytelling Contest Say Prizes Will Help Pay Fees
|
By Kiven Brenda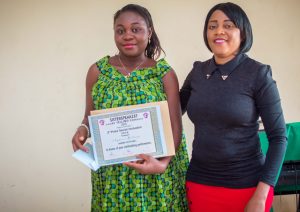 The prize award ceremony to winners of the 2018 Sisterspeak237 National Storytelling Contest took place on January 30 at CBC Nkwen, Bamenda with laureates appreciating organizers for facilitating the responsibility of paying fees in their various schools. The ceremony took place in the presence of the representatives of the Bamenda City Council, the Regional Delegation of Communication, representatives of journalism schools in the region, journalists and student journalists.
One of the laureates, Wifah JennyHans, student journalist of the University of Bamenda who won in the category of Agriculture, said apart from learning good journalism practices in the process of writing his story, the cash prize will help him pay his fees for the 2018/2019 academic year.
"It served as an opportunity for me to tell stories that can impact our society and not just breaking news. This helped in bringing out those stories which are under reported and let the world know our potentials. I am so glad. This is going directly for my fees", said Wifah.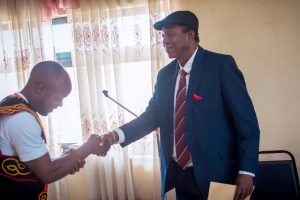 Nji Nelson, another journalism student from the University of Bamenda who won the first prize in the category of Social Inclusion said it was a privilege for him to be chosen as the best, given the professionals (like Omer Songwe and Njouny Nelson) that make up the jury bench of the competition.
"I am indeed happy that my story was the best as far as social inclusion is concerned, especially with the bench of jury which involved seasoned journalists. If they chose my story as the best, that means I did something commendable. This has given me more zeal to work harder and prepare for the 2019 edition. This money will immediately go to pay my fees", he remarked.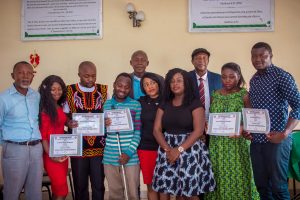 The students competed in three categories which involved Women issues in their communities, social inclusion and agriculture. In each category, the first cash prize stood at FCFA 50,000, Second at FCFA 30,000 and the third equivalent to FCFA 20,000.
The Founder/Coordinator of Sisterspeak237, Comfort Mussa in her address on the occasion, presented by Wanchia Cynthia the project lead, said it was part of the organization's objectives to tell under reported stories, reasons why they instituted the National Storytelling Award. The annual contest which celebrates excellence in journalistic works by recognizing meaningful contributions made by individual journalists. She further expressed hopes that the contest will reignite the passion for journalism, encourage journalists to pursue stories that are not often told in mainstream media, and most importantly, contribute to uplifting of professional and ethical standards of journalism in Cameroon. She thanked all her collaborators, and congratulated the winners of the 2018 edition while reminding them that the financial prizes are a symbol to inform laureates that good journalism pays.
Congratulations to the winners
Women and Reproductive Health- Bafon Collette (HIBUMS)
Social Inclusion – 1st Nji Nelson (University of Bamenda)
                               2nd Ngwasi Gillian (HIBUMS)
                            3rd: Jael Bih ( University of Bamenda)
Agriculture Category – Wifah JennyHans (University of Bamenda)