Death of quintuplets – Yaounde Central Hospital Explains
|
Death of quintuplets at Yaounde Central Hospital
Here under is a release from the Director of the Yaounde Central Hospital.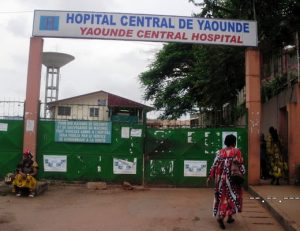 Mrs. Honorine Nshi aged 30 years, is a mother of two children,living in the Carriere neighbourhood in Yaounde.
She was received for the first time in our hospital on Tuesday 22 March,2016 for uterine contractions for more than 12 hours on a multiple pregnancy (5 foetuses previously unknown) aged 22 weeks and 4 days (date of last menstrual period : 15 October 2015, that is 5 months pregnant).
She was taken care of immediately and examination showed that she was fully dilated. This was a late inevitable abortion with expulsion of the foetuses within one hour comprising one mummified foetus weighing 200g; a stillborn of 700g, and 3 foetuses gasping and dying within 5 minutes of expulsion, weighing 550g,570g, and 650g, respectively.
It should be noted that the maternity of the Central Hospital has incubators for keeping babies safe before any transfer to neonatology(pediatrics), which is the final receiving service.These foetuses were not viable.
The bodies were immediately returned to the family upon request against discharge. During 48 hours of hospitalization, Mrs Nshi received all necessary healthcare for her condition and we have not received any complaint from her.
In conclusion, Mrs Nshi carried a multiple, high risk pregnancy, seen within emergency context in our maternity. Adequate care provided by our hospital enabled to save the mother who is in good health and she returned to her family on 24 March 2016. Unfortunately, the foetuses could not survive given the age of the pregnancy and the low weight at birth.
While presenting condolences to the family, the Central Hospital is at the disposal of users and will spare no effort to improve its services, reception and care.
The Director of the Yaounde Central Hospital
Courtesy of Cameroon Tribune