Lioness forward, Nchout Ajara launches a campaign against Early Marriages for the girl child
By Angu Lesley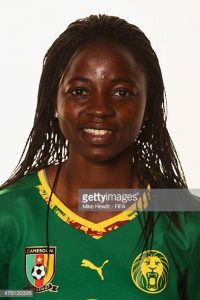 Girls of Bilingual Secondary School Sultan Ibrahim Mbouombouo
Njoya and Nchout Njoya Ajara last weekend launched a campaign against Early Marriage with the  slogan: "No to early marriages"
The Sandsviken's forward on the occasion of her visit to the school in Foumban,handed out  special prizes to the best 6 students (3 Anglophones and 3 Francophones) of the School.
6 Girls of the college all benefited payment of their tuition fees and also got a signed Ajara's Jersey per student.
According to Girls Not Brides, many girls aren't in education because schools are inaccessible or expensive, or because parents don't see the value of education, either because it is of poor quality or not seen as relevant to their lives. With few alternatives, parents often see marriage as the best option for their daughter. Girls who have no education are three times as likely to marry by 18 compared to girls with secondary or higher education.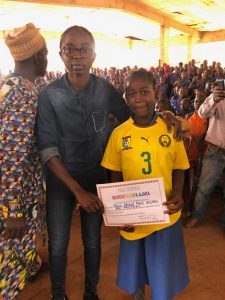 By paying their school fees, Ajara is giving them the opportunity to stay in school .
"Reacting to this reporter on Monday the gesture, Sandsviken's forward said;
"It is my way of thanking God for his role my in my life and career, children are born to succeed after a sound education. Early marriages for girls is something we must all fight to eradicate in our society."
Ajara recently visited inmates in Foumban and Foumbot after organizing her end of year football competition in her native land of Foumban.