Daring to Invent the future – Kah Walla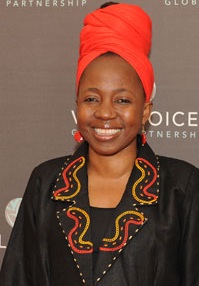 There were other women before her. We saw one in 1992, we saw another in 2004 but she was the first woman whose presidential bid in Cameroon drew national and international attention. Kidnapping and water cannons could not stop her. Blackmail, slander, corruption & other vices, which play against other female candidates in Cameroon, did not deter her. Edith Kahbang Walla, popularly known here as Kah Walla ran for the presidency in Cameroon in 2011 on the Cameroon People's Party line
 I was honored when she granted me audience for an exclusive interview. She was taking a bold step and in her words "making a statement that women can aspire and dream big dreams." I talked to her about the run, her motivations and expectations for Cameroon.
The story was published by the Global Press Institute. Read the original article  here http://www.globalpressjournal.com/africa/cameroon/lone-woman-candidate-eyes-presidency-cameroon
Shifting gears, Kah Walla recently delivered her TEDx talk about Daring to Invent the Future and the rise of Africans
[su_youtube url="https://www.youtube.com/watch?v=_GFrlnmkfXk"]
Woman Eh !!!