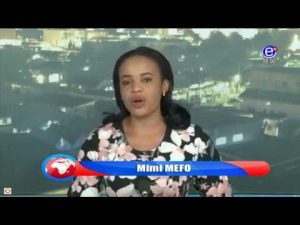 By Ndi Eugene, NewsWatch
Talented and award winning journalist, Mimi Mefo is the new editor-in-chief of the English language service of Douala-based private media giant, Equinoxe Television.
She was appointed last week by top management of the media outfit to replace Nfor Hanson Nchanji who resigned from the position late last year.
Indeed, Mimi Mefo was only formally confirmed desk editor as she had since been acting as one following the resignation of Nfor Hanson.
Well known for her unique style in news presentation, Mimi Mefo was some weeks back voted 2017 best female TV news presenter of the year award.
She picked up the crown last March 16 in Douala during a heavily attended event organised by the Cameroon consumers' foundation, FOCACO, initiators of the award.
Mimi Mefo who has a wealth in broadcast journalism emerged winner after a smashing victory over two of her main challengers.
Her victory to emerge winner followed an online poll in which she grabbed majority of the votes.
In a social media outing a day after she got the distinction, the Douala-based journalist and women's rights advocate wrote "I am earnestly humbled by this act of love from everyone who believed in me. The only pledge I can make is, 'I will never relent'. I humbly accept the award of Best female TV News Presenter 2017."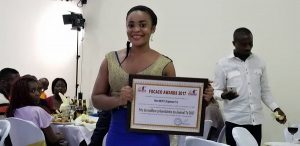 She then stated "This award is for all those who voted, for those who have stood by me all along. Immense thanks to the entire management of Equinoxe Television for giving me the opportunity to practice this noble profession."
A graduate from the department of Journalism and Mass Communication of the University of Buea, Mimi Mefo's experience in broadcast journalism spans several years.
She began her modest career with Buea-based Hi TV before joining the English desk of Equinoxe television and radio in Douala where she currently works.
Mimi Mefo has amongst other things handled different responsibilities at Equinoxe including news presentation on television and radio. She has also been involved in field reporting.
In 2016, she won the special prize of best video investigative report in a competition organized by Africaphonie in partnership with the British High Commission in Cameroon. The report which earned her the award focused on the deplorable living conditions of detainees in Cameroon.
Mimi Mefo is both of North West and West parentage. Her father is a native of Mifi Division in the West region (Baleng) while her mother hails from Bali Nyongha in the North West region.